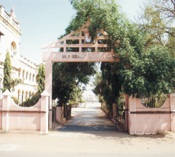 "Karamsad Kelavani Mandal" - the trust which has been in existence for more than nine decades is a well reputed prestigious educational trust in Karmsad.

The alumni of karamsad Kelavani Mandal has managed and nurtured the trust to its present eminence.

The trust was formed in 1953, and commenced its activities with a school and student at karamsad in 1953 through the generous donations from the society and through the visionary efforts of karamsad kelavani mandal "